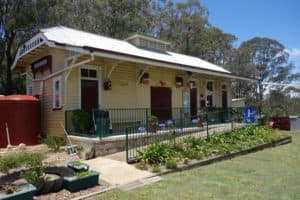 The timber town of Yarraman is the northernmost destination of the Brisbane Valley Rail Trail. It is 160 km or 100 miles in old money from Wulkuraka Station in Ipswich. Yarraman is also an excellent starting point for any End-to-End adventure on the Rail Trail as the general trend is downhill as you head southwards.
Yarraman is a relaxed country town with a low-humidity climate of cool summers and brisk winters. There is a supermarket, a camping and caravan park with cabins, medical services, a servo, two motels, a two pubs with accommodation, a bakery, a butcher, and a couple of cafes.
The town is surrounded by a mixture of commercial hoop pine plantations, State Forests and picturesque grazing countryside. It is thought that the name Yarraman was derived from an Aboriginal expression describing the kangaroo.
One of the town's major tourist attractions is Heritage House, previously a Sacred Heart boarding convent for boys. The building is now the home of the Yarraman & District Historical Society and features a number of museums, resource facilities, wine tasting, craft shop and a Community Radio station.
The settlement of Yarraman began as a camping place for pastoral workers from the Cooyar station, situated to the south, when cattle mustering. Extensive pine reserves were found on the farm selections, and timber harvesting became an important local industry. The railway extension was opened in 1913, connecting Yarraman with Ipswich and Brisbane.
Due to poor signage, the old railhead that is the startingpoint for the Brisbane Valley Rail Trail can be a little difficult to find. From the D'Aguilar Highway, turn into Browne Street almost opposite the turn off for the New England Highway near the Royal Hotel (yellow building), which then becomes Millar Street. Follow through past the Heritage Museum with the old signal until you come to the railhead.
Transport is a major problem for anyone wanting to do the BVRT from End-to-End without vehicle support starting or ending in Yarraman, but for walkers and small groups of up to six cyclists, there is a solution in the form of coach service from Caboolture to Yarraman operated by Pursers Coaches based in Murgon.
The coach departs from Caboolture Station every weekday not including Public holidays and not including weekends. They can carry up to six bicycles in the luggage bay underneath.
The coach departs from Caboolture Station at 4.30 pm.
There are two trains from Brisbane that arrive at about that time – one arriving at 4.10 pm and the other at about 4.20 pm
The fares are $35 per person ($30 for concessions) and $16.50 per bicycle.